Skin-passed wire
Main features:
Skin-passed wire is manufactured using dedicated precision equipment for gauging the diameter to customer specifications.
This process also guarantees top quality surface finish and brilliance.
Main uses:
Metal parts, clothes pegs , hinge pins , hanging elements for false ceilings, hooks, small metal parts.
Diameter range: 1.50 – 6.00mm.
Packaging type: F85.
Types of finish: galvanized, bright.
Chemical composition
TO UNI EN 16120-2
| | | | |
| --- | --- | --- | --- |
| Steel grade | C(c) % | Si(d) % | Mn(e) % |
| C4D | ≤0.06 | ≤0.30 | 0.30 - 0.60 |
| C7D | 0.05 - 0.09 | ≤0.30 | 0.30 - 0.60 |
| C9D | ≤0.10 | ≤0.30 | 0.30 - 0.60 |
| C10D | 0.08 - 0.13 | ≤0.30 | 0.30 - 0.60 |
| C12D | 0.10 - 0.15 | ≤0.30 | 0.30 - 0.60 |
| C15D | 0.12 - 0.17 | ≤0.30 | 0.30 - 0.60 |
| C18D | 0.15 - 0.20 | ≤0.30 | 0.30 - 0.60 |
| C20D | 0.18 - 0.23 | ≤0.30 | 0.30 - 0.60 |
| C26D | 0.24 - 0.29 | 0.10 - 0.30 | 0.50 - 0.80 |
| C32D | 0.30 - 0.35 | 0.10 - 0.30 | 0.50 - 0.80 |
Main applications
Main applications
Packaging
Details of packaging methods available for: Skin-passed wire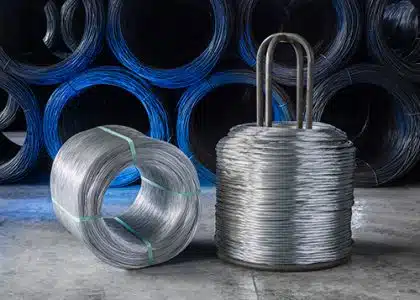 Pattern laid coil
| | | | | | |
| --- | --- | --- | --- | --- | --- |
| Code | Ø outside | Ø inside | Height | Weight | Ø range |
| F85 | 850 mm | 400 mm | 600/1000 mm | 500/1000 kg | 1.50 - 6.00 mm |
We can fully customise packaging and product specifications on customer request, and issue EN 10204 3.1 certification